Environmental & Biohazard
Other Environmental
& Biohazard Services
Please see below Bio Hazard and Environmental services provided by AAA Environmental Professionals. When it comes to your safety only trust the professionals.
Odor Removal
Emergency Vehicle Decontamination
Tear Gas Cleanup
Rodent Droppings
Feces / Urine Cleanup
Medical Waste Disposal
Decomposition / Homicide Cleanup
Hoarding Clean Up
Blood Spill/Crime Scene Cleanup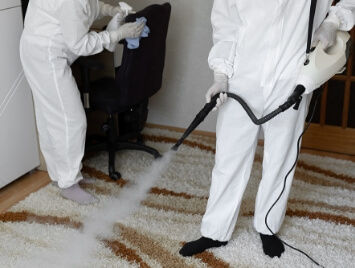 Disinfecting
Graffiti Cleaning
Testimonials
What Our Clients Say
This is a very professional establishment. They gave a reasonable estimate for the work. They completed the work efficiently and responsible of our needs. Thanks for recommending this agency..
Wanda T. of Willingboro, NJ
Aaaenviropro was awesome. Arrived early, super friendly, understood everything I needed. He finished his work on time, cleaned up the area and was professional. He did a great job and I would recommend him anytime.
Teena Venanda
Amazing service! Attention to detail, very helpful in terms of providing us with our specific environmental asbestos removal needs. Excellent work and very pleasant! Highly recommend. Will hire again any time. Many thanks!
Linda Jone
AAA lead professionals did a very high quality job…they were a pleasure to work with. They responded very quickly and understood the urgency of our needs. They completed the job in a very quick time and were in constant touch with the city officials. They also obtained necessary paperwork and certificates very quickly. I would definitely recommend this company and would hire again if needed. A+
Sharon Klein
Read More Reviews
See Our Other Services
In New Jersey
Asbestos, Mold And Lead
Fire, Water And Other