Mold Testing & Inspection NJ
Mold Testing & Inspection NJ
Mold Testing & Inspection In New Jersey
New Jersey's high humidity and heavy rains create the ideal breeding ground for mold. Mold can cause health problems for you and your loved ones, besides making your house or commercial property uninhabitable. So if you suspect mold exposure, contact AAA Lead Professionals right away.
AAA staff are highly familiar with local building owners' situations, as they also reside in the area. Thus, they understand the recent weather patterns and climate conditions affecting your home's moisture levels. We're resident experts – AAA Lead Pros always follow cutting-edge testing processes to ensure our New Jersey neighbours get the most reliable, accurate results.
Our employees are fully trained and certified to provide professional mold inspection and other environmental testing services in NJ (across Ocean County, Monmouth County, Cumberland County, Essex County, Mercer County and more). We also offer New York services and Philadelphia services.
DIY Mold Inspection & Testing Are Not Advisable
Trying to figure out whether you have mold and how to get rid of it on your own may cost less than asking a professional, but you won't be able to identify and obtain samples from all the hard-to-reach spots, building materials, and awkward areas like a crawl space where molds are potentially growing. Even if you do, will you spread it to the rest of your home? How will you assess the health risks and decide next steps? Certified mold inspectors are familiar with the situational conditions of mold issues as well as the best practices for safely testing mold.
Mold inspections alone cannot show how risky a mold contamination is. Only indoor air quality testing and mold testing carried out by industry professionals like us can accurately identify mold contamination levels and the circumstances producing your mold issue, to thus determine if the fungi levels surpass normal, and assess the risk to your health.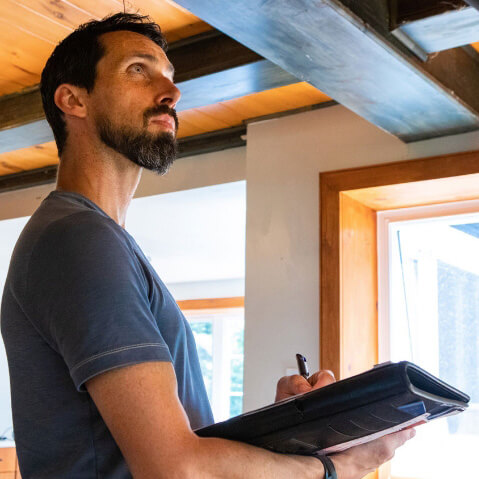 What Are Mold Testing & Mold Inspection?
When you hire AAA Lead Professionals for mold inspections and testing services, we inspect your building for moisture and collect samples to test for various types of mold. We assess the issue, provide testing, and suggest solutions based on our findings. We also offer mold remediation services in NJ to solve your mold problem once its presence is confirmed.
Through the entire process, our environmental consultants use specialized tools like moisture meters, thermal imaging cameras, and infrared cameras to address any concerns present in the service area. This combined with the visual inspection are the first steps in preventing health issues from indoor air quality.
Whether you have a humidity problem, water leaks, or visible signs of building damage, we will inspect, test, and provide a mold inspection report for your mold removal professional to follow in the mold remediation process.
Our New Jersey Mold Testing Process
1. Call us to schedule an appointment.
2. We perform a visual assessment of your home or property.
3. Your AAA mold inspector collects samples and sends them to an independent lab for analysis. We use different methods of mold sampling:
ERMI Testing
Tape Lift samples and/or swab
Air samples
MVOC samples
Mycotoxin samples
Test results are received a few days later, sometimes as soon as the next day. Your mold inspector will help you interpret the lab results and recommend what actions should be performed for mold remediation. Throughout the entire inspection and mold testing process, you can expect full support from us.
Service Areas For
Mold
Atlantic County
Burlington County
Camden County
Cape May County
Cumberland County
Essex County
Gloucester County
Hudson County
Hunterdon County
Mercer County
Middlesex County
Morris County
Passaic County
Salem County
Somerset County
Sussex County
Warren County
And other areas in New Jersey state
Schedule A Mold Inspection And Test Today!
How can you get rid of something if you aren't even sure if it's still there? That's why air quality inspection is so important for the mold removal process. Samples must be forwarded to labs for confirmation, then test results must be interpreted. So whether you're in northern New Jersey or South Jersey, never trust an amateur with mold inspections for your house or business premises. If you suspect mold hides in your NJ property, don't wait to act. Prompt action is crucial to success. Get your free AAA Lead Pros quote today!
Testimonials
What Our Clients Say
AAA Lead professionals took care of my mold problem from start to finish. They were professional , knowledgeable and a pleasure to deal with. I have been having a mold problem in my basement since we bought the home two years ago and we have worked with several mold remediation companies to try and get rid of the mold, it always came back 6 weeks later. It is now six month since AAA Lead Professionals performed there work and the basement is still mold free. We can finally start using our basement without having to worry about our health. Thanks so much for everything. You have really earned a five start review from me.
Chavi Hoberman
i had excellent experience with AAA Lead Professionals! they came down right away and took care of my mold immediately!! they are very experienced and professional!
shani fishof
Highly recommend using Joseph From AAA Lead Professionals, Joseph is honest and always has a smart approach on remediation, never had an issue with mold returning, great pricing and response time. Thank you!
Sara Sicker
I hired AAA Lead Pros to do the mold remediation in my basement. Within an hour of my initial call someone came out to give me an estimate and mold assessment report. Initially, I was not happy to find they charged for the estimate. Once I received the quote back that quickly changed. Lead Pros are extremely well priced. I'm talking a third of what their competitors attempted to charge me. They were also willing deduct the cost of the estimate off the final price of the job. I hired them on the spot after receiving the quote and they were on the job site within a week. As for the work itself, I could not be more satisfied. The supervisor was friendly and willing to ease the concerns of both myself and the tenants by answering an onslaught of our questions. Once the walls and floors started being torn down it became clear to them that to do the job correctly far more material would need to be removed than what was initially agreed upon. This was done at no additional cost to me which made it clear in my mind that they are dedicated to getting the job done correctly without trying to take advantage of their customers. The mold killing agent that was used was a green product so it was not necessary to vacate the premise during the time the work was going on. All contaminated materials were removed and hauled off site. Anything which could not be removed (structural support beams) were treated and encapsulated. They also used an air scrubber which was left running for 24 hours straight to ensure any disturbed mold spores would not further contaminate the air and job site. After the job was concluded I felt compelled to tip them for their great service. They wouldn't even accept the tip! This is why I felt personally obligated to leave them this positive review. I am normally very skeptical of contractors so it is refreshing to find an outfit like this with integrity. They will absolutely be getting my business again should the need ever arise.
Scott Santangelo
I've used AAA Lead Professionals multiple times for projects we've done. We've had renovation projects with mold in the crawlspaces, asbestos shingles and tile on another project, and lead on exterior paint of an older house. AAA took care of all these problems in a timely fashion and at a reasonable price. Happy to use their services and to refer them to others.
Avi Elbaz